Tom cruise is a award winning American actor and filmmaker. He was born on July 3, 1962, in Syracuse, New York, United States.
If you want to learn more about this famous and versatile actor then you are on the right place, in this article we have collected every information about him. Read on!
To get all new updates follow celebography.
Tom cruise bio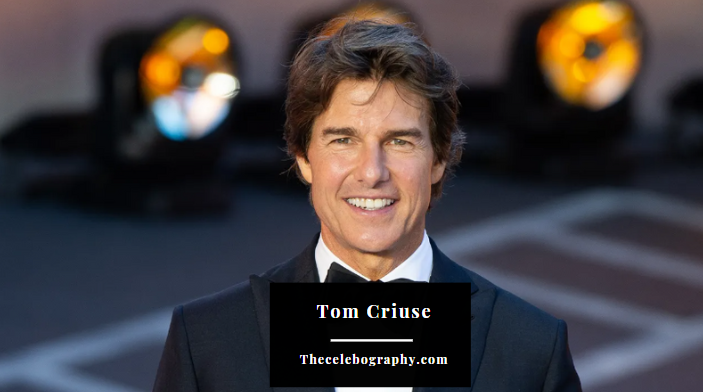 Tom Cruise is an award-winning American actor and director best known for his role as secret agent Ethan Hunt in the 'Mission: Impossible' film series.
In 2012, he was Hollywood's highest-paid actor and is considered to be one of the most popular actors in the United States.
Born in New York to an abusive father and raised in near-poverty, nothing in his early life indicated that he would one day become one of the most renowned actors in the world.
Even as a teen, Cruise desired to become a priest rather than an actor. However, fate had other plans for him, and at the age of 19, he was cast in a small role in the film Endless Love.
He realized that acting came easily to him and decided to pursue it as a profession.
Before landing his first major role in the romantic comedy "Risky Business," he appeared in numerous supporting roles over the next few years.
It did not take him long to establish himself as a highly sought-after A-list celebrity, as he was both strikingly attractive and endowed with boyish charms.
When he was cast as secret agent Ethan Hunt in the 'Mission: Impossible' film series, his popularity skyrocketed.
Tom Cruise acting career.
As a 19-year-old, he relocated to New York and landed a small role in the 1981 film "Endless Love."
In 1983, he portrayed Joel Goodson in the romantic comedy "Risky Business" after having appeared in a number of minor roles in additional films.
Tom Cruise, with his chocolate-boy good looks, became the heartthrob of millions of American women after the film's success.
In 1986, he portrayed Lieutenant Pete "Maverick" Mitchell, a young naval aviator aboard the aircraft carrier USS Enterprise, in the action-drama film Top Gun.
This film was also a huge success, solidifying his status as a superstar.
In the late 1980s, he appeared in films such as 'The Color of Money' (1986), 'Cocktail' (1988), 'Rain Man' (1988), and 'Born on the Fourth of July' (1988). (1989).
In the early 1990s, he frequently co-starred with Nicole Kidman, whom he married in 1990.
In films such as 'Days of Thunder' (1990) and 'Far and Away,' the real-life couple portrayed lovers (1992).
In 1996, he achieved unprecedented success when he portrayed Ethan Hunt in the action-adventure spy film Mission: Impossible.
The plot focuses on the mission of agent Hunt to identify the mole who has framed him for the murders of his entire team.
The film was a huge success at the box office and spawned several sequels.
With films such as 'Eyes Wide Shut' (1999), 'Vanilla Sky' (2001), 'Minority Report' (2002), 'The Last Samurai' (2003), 'Collateral' (2004), 'War of the Worlds' (2005), and 'Lions for Lambs,' he remained a bankable and popular star throughout the late 1990s and 2000s (2007).
Recent works include 'Rock of Ages' (2012), 'Jack Reacher' (2012), 'Oblivion' (2013), and 'Edge of Tomorrow' (2012). (2014).
Tom Cruise starred in the fifth Mission: Impossible installment, "Mission: Impossible – Rogue Nation," in 2015. In 2018, he reprised the role in the sixth installment of the Mission: Impossible franchise, Fallout.
He starred in the 2017 horror film The Mummy. The film was a remake of the 1932 film of the same name starring Boris Karloff.
Tom awards & achievements
Tom Cruise has won three Golden Globes, including Best Performance by an Actor in a Motion Picture.
The National Mentoring Partnership awarded him the Excellence in Mentoring Award in 2003 for his work with the organization.
He received the "Special David" award from the David di Donatello Awards in 2005.
The Simon Wiesenthal Center and Museum of Tolerance presented Tom Cruise with a humanitarian award in 2011 for his work as a devoted philanthropist.
Tom physical appearance
He is 5 feet 7 inches. his weight is 68 kg. His eye color is green and hair color is dark brown.
Tom net worth
His net worth is 600 million.
Read More: