Megan Jane Ramsay is the daughter of chef Gordon Ramsay and his wife Tana. She was born on May 16, 1998, in England. Her mother is a former schoolteacher who now hosts a cooking show on television.
Who is Megan Ramsay?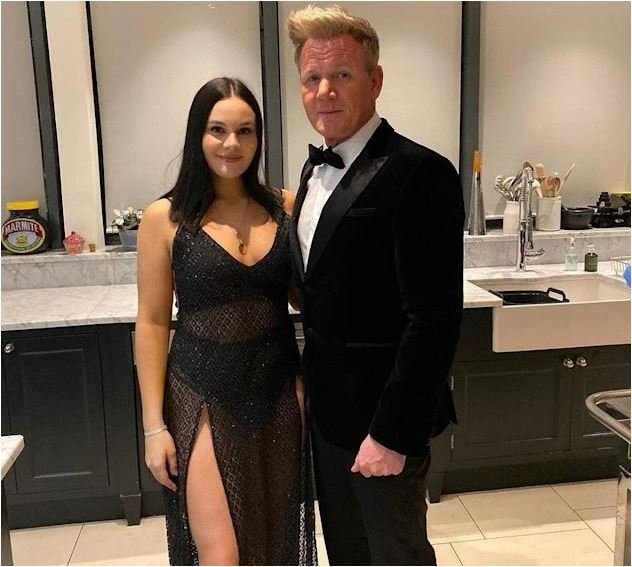 Her father, on the other hand, is one of the most well-known chefs in the world, with a total of 16 Michelin stars. His appearances on different competitive cooking shows have made him well-known.
Megan Ramsay networth
Megan Ramsay's net worth is estimated to be in the millions of dollars.
Megan Ramsay's net worth is expected to be over $1 million as of mid-2020, thanks to her multiple successes.
While she has experimented with a variety of job options in her few years as an adult, she has most likely benefited from her parents' money her whole life. Her father is one of the wealthiest celebrities in recent years, with a net worth estimated to be over $220 million.
Early life and Education
Megan has four younger siblings, two of them are twins, with whom she grew up. Her parents raised her on a diet of high-quality cuisine from a young age, but she was nevertheless subjected to a rigid upbringing, with her father keeping a careful eye on her friends and interactions.
Her parents never instilled in her a love of food, and she grew up with a wide range of hobbies.
She attended the Ibstock Place School in London, a co-educational independent school, and then matriculated at Oxford Brookes University in Oxford, England, which is one of the world's finest young institutions, frequently placed highly in many university rankings.
She enrolled in a psychology course and completed many internships while there. Her father sent her a long passionate celebratory message on social media during her graduation, which garnered some attention.
Career Aspirations
Megan's early job experiences included internships at two UK-based lifestyle and fashion firms.
The first was with White Stuff, which specialises in men's, women's, and children's clothing, as well as accessories, home goods, and gifts. She also completed an internship with Beauty Pie, a company that sells skincare and cosmetics.
She temporarily worked for her father's company, Gordon Ramsay Holdings, after college, but resigned after only two months.
She later became involved in production, working behind the scenes on several of his father's shows as part of Studio Ramsay, including "Ramsay's Kitchen Nightmares," and has visited Gordon Ramsay's Restaurant several times.
She eventually decided to pursue other career options and began working for the National Crime Organization, the UK's law enforcement agency, where she focused on a variety of crimes.
Other foreign law enforcement agencies, such as Interpol and Europol, frequently contact them through them.
She obtained an internship with Quintessentially Travel Group, which specialises in premium lifestyle and travel packages, after working there for a short time.
Gordon Ramsay father
Gordon was the second of four children born in Johnstone, Renfrewshire, Scotland.
His family travelled about during his childhood due to his father's effort to obtain a good career, which was hampered by his drinking. They eventually settled in the English town of Stratford in the county of Warwickshire.
He had a lot of athletic ability and used to play football on a regular basis when he was younger.
He was able to join The Rangers Football Club, which he considered a dream come true because it was the club he had loved as a child, but due to a back ailment, he had to leave this career behind.
He subsequently turned his attention to a new hobby: cookery. He began by attending several classes and was sponsored by Rotary International to pursue a degree in hotel management.
Following his schooling, he worked as a commis chef at Wroxton House Hotel before relocating to London and working at several restaurants until being mentored by Marco Pierre White. He began learning more about French cuisine since he wanted to be more than just a typical cook.
Gordon Ramsay's Popularity
Gordon rose to the position of head chef in the 1990s, marking the start of his rise to fame and fortune. He rose to prominence as a television personality after appearing in the miniseries "Boiling Point" in 1998.
The documentary series followed him for eight months as he prepared a new restaurant in Chelsea in the hopes of earning the coveted three Michelin stars.
He rapidly gained not only a reputation for his culinary abilities, but also for his temperament, which frequently resulted in outbursts and a reputation for being outspoken and strict, a feature that would define his television career.
He's appeared on a number of shows throughout the years, including "Hell's Kitchen" and "The F Word." His work on "MasterChef" and its spin-off "MasterChef Junior" earned him international acclaim.
He runs Restaurant Gordon Ramsay in Chelsea, and he has seven Michelin stars across all of his restaurants, giving him a total of 16 Michelin stars throughout his career.
He was named one of the highest-paid celebrities in the world in 2018, with a net worth of over $62 million, owing to his success in the culinary world, as well as his television appearances.
Personal life
Megan is dating Charlie Webb, and while nothing is known about him, she has shared images of the two on social media on occasion.
Her father once paid her younger brother to spy on her during her teenage years to see whether she was dating anyone; she was later challenged about a boy who turned out to be one of her friends.
She has attended countless prominent events with her family and is close friends with David Beckham's son, Brooklyn Beckham. She ran the London Marathon in 2016 and dedicated her participation to a younger brother who died in a miscarriage.
Read Also: