Fantastic Beasts: The Secrets of Dumbledore review:- This is the third strike for this uninspired, befuddled brand attempting to milk the enchantment of the Harry Potter novels without offering anything new.
While I wouldn't call it simple, the job of a movie critic is straightforward. We're meant to give each release our full attention and focus, be honest about our feelings, and try to have a meaningful dialogue about it.
It is also our responsibility to give every film a chance. Every week, you must sit in that dimly lit theatre and honestly believe that any film could transform your life.
However, some films make it difficult. Some franchises, such as the Fantastic Beasts films, make it challenging to maintain a cautious optimism.
Fantastic Beasts: The Secrets of Dumbledore movie story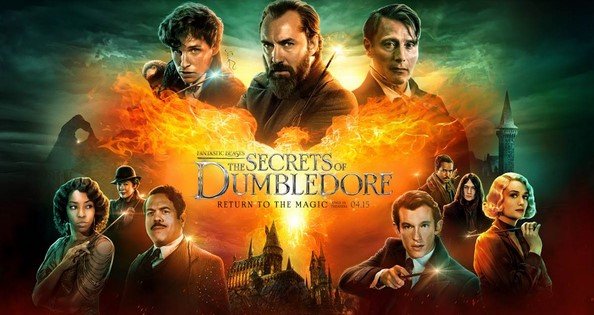 It's challenging not to be jaded before even a single frame flickers to life, given how much is going against the stale, needless, stretched-beyond-its-limits series.
While I'll confess that I only have great memories of the first film, which allowed us to explore the Wizarding World that so many of us love and introduced us to a new cast of genuinely appealing characters, I'll admit that I only have fond recollections of the second. These 'first movies,' like the Hobbit films, have honesty and purity.
They seem to come from a place of admiration for the world they've returned to. 
However, this honesty fades and dissolves in its sequels, where a single film's story and characters are stretched beyond their boundaries, forced into trilogies they don't need or deserve.
Fantastic Beasts: The Secrets of Dumbledore Concept and plot
Fantastic Beasts: The Crimes of Meandering Storytelling and Spectacular Miscasting Grindelwald, the second installment, was a dreadful fever dream of a film in this scenario.
Before entering into this third (and presumably final) one, I could recall that there was something about a strained brother-sister equation that I couldn't follow or feel for my life.
The franchise was so desperate that they even created a Dumbledore from scratch.
The second film's big reveal was that Ezra Miller's Credence was a secret Dumbledore nobody knew about (who somehow ended up in Queens, New York…)
You should watch the Fantastic Beasts
Like most of the characters in this trilogy, Credence had genuine effect and weight in the first film (the concept of an Obscurus and the perils of suppressing one's identity is still a great metaphor).
But he didn't need to be force-fitted and recycled into the subsequent versions.
This leads us to Fantastic Beasts: The Secrets of Dumbledore, a poorly conceived, terribly disconnected, joyless trudge of a third feature (literally everyone in this picture is sad) that grows progressively meaningless as it progresses. 
As he does with all dark wizards whose rise to power he is responsible for, a youthful Dumbledore takes it upon himself to bring Grindelwald down.
(An honest but miscast Jude Law does his best to get Dumbledore: The Early Years to life, armed with a distracting Cornish tinge in his dialect.) However, because of a Blood Troth—a magical pledge that states that harming the other will result in your death—Dumbledore and Grindelwald cannot directly oppose one another.
My honest review on Fantastic Beasts movie
It's a clever plot device and the wizarding equivalent of a disastrous youthful love tattoo. On several occasions, they make it evident that Dumbledore is canonically gay, reassuring.
Dumbledore assembles his ragtag army of Auror-Avengers to track down his criminal ex, led by Newt Scamander (the always lovable Eddie Redmayne, whose Newt deserves a better movie considering this one keeps forgetting he's the star).
Bunty (Victoria Yeates) is Newt's assistant, and she's been with him for seven years (?) though I have no recollection of her.
Professor Hicks is also present (as is Jessica Williams, whose distracting sassy 70s accent makes it nearly impossible to take her seriously).
Newt's muggle friend, Jacob Kowalski (the adorable Dan Fogler) from the first two films, is also requested to accompany them on this risky mission, even though he has no visible abilities or genuine use.
Newt's brother, This, is also present (Callum Turner treading the fine line between stoic and expressionless). I couldn't figure out what role Theseus played in the film. You brought in his eye-candy, muscle-y brother because the hero wasn't engaging enough?
With the team in place, Dumbledore sends them on Grindelwald-thwarting missions worldwide, from Berlin to Bhutan. I say thwarting, but our heroes mostly end up in the same room as Grindelwald at different awkward parties and dinners where the good folks and bad guys appear to throw daggers at each other. It's simply an odd film.
So, what's left to say? I could go on about how dull and lifeless the images are (the Wizarding World never looked so washed out and colorless).
I could go on and on about the innumerable hazy, confusing CGI magical duels (were wizard duels in the Harry Potter films always this boring?). I could tell you that Grindelwald's Hitler-like campaign is barely felt (he's not very dangerous, and unlike Voldemort, you don't get a sense of his growing power and the fear it brings).
I can tell you that the structure and rhythm of the film are off. The entire thing feels like one continuous slow-burn buildup in a movie that is both fast and leisurely.
Individual scenes don't seem to flow naturally into one another, and sequences appear to be unsure of where to stop. Then the climax involves a strange public election and a magical Bambi-like creature meant to choose the next great wizarding leader.
The beginnings of one of the most enthralling goods against evil dramas ever seen in cinema occurred 20 years ago. The Harry Potter series accomplished more than simply touching people's hearts. We began to believe in magic as a result. It appears that the Fantastic Beasts franchise has exhausted its enchantment.
Read Also: